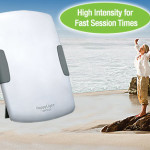 Beat the winter blues.
The HappyLight provides Natural Spectrum® light comparable to daylight, scientifically shown to combat the tiredness and malaise associated with the winter blues and the effects of shift work or jet lag.
Fight fatigue and increase alertness.
Natural Spectrum light cues the body's natural energy enhancers to reduce sluggishness and lethargy.
Regain focus, concentration and productivity.
The HappyLight helps regulate and recalibrate the body's natural cycles to improve focus, concentration and productivity.
Have you read the book on Winter Blues from the leading expert?
Dr. Norman Rosenthal is a noted psychiatrist who was a Senior Researcher for the National Institute of Mental Health and led pioneering work on the effects of light therapy to treat Seasonal Affective Disorder (SAD) and the "Winter Blues."  His book, Winter Blues, details how people with SAD or the "Winter Blues" can overcome seasonal challenges.
HappyLight Deluxe Energy Lamp
Replacement Bulb – CFL36VLX2